June 13th, 2011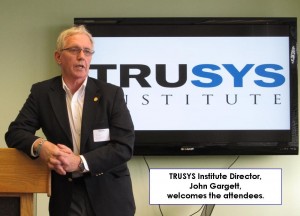 On June 9, 2011, TRUSYS celebrated an important milestone in its corporate development: the opening of the TRUSYS Institute. Thanks to the leadership of the Institute Director, John Gargett, an important tool has been added to the advancement of the services TRUSYS delivers.
TRUSYS CEO, Ryan Taylor, commented: "When we founded TRUSYS in 2007, we envisioned the day when we could contribute to advancing the knowledge of our industry by creating the TRUSYS Institute. Since then TRUSYS has completed work in dozens of locations around the world and has a presence in five countries on four continents. The day to launch the TRUSYS Institute has finally arrived. We see it as a place to congregate the thought leaders of our industry for meaningful learning and exchanges."
The event was timed with the first visit to Seattle by the TRUSYS Netherlands team led by Léon de Brujin. Mr de Brujin, a highly respected security expert in the Netherlands, explained some of the differences in security practices in the Netherlands. He focused on organizational practices and on the growing need for Organizational Resilience best practices like R-SEC™, TRUSYS own Organizational Resilience methodology.
The second speaker for the event was Mr Paul Pattynama. Mr Pattynama is a former Netherlands Provincial Fire Chief. Mr Pattynama focused on Fire and Safety practices in the Netherlands and Europe. Again the need for better Organizational Resilience practices was stressed. Interestingly, most of the participants' questions referred to organizational issues rather than technical or technology matters.
The event was followed by a reception, and as most such events, valuable connections were made and good business relationships were enhanced.